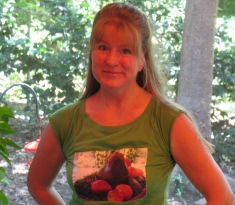 Beth Green
Tallahassee, FL
Are you dragging through your days, have nagging problems that just never seems to go away, weight issues, or just want to feel better than you've felt in years Beth will be by your side every step of the way.
Beth is a Raw Food Chef, Teacher, Personal Fitness Trainer, Lifestyle Coach and Raw Nutrition Specialist. She guides people into a raw food lifestyle so they can go as raw as they want to, teaches them how to prepare raw foods, educates them on healing foods and what to expect, and supports them throughout the process. Beth is also available to help people to begin an exercise program if they're not already on one (all with their doctor's approval, if they have health issues).
Beth is offering Raw Food Classes, Coaching, Personal Training and phone consultations. For information contact Beth at bgreen@rawbydesign.com or www.rawbydesign.com or by phone @ 850-877-0622.